Tired of eating broccoli by itself? Try this Pork and Broccoli Stir-Fry recipe.
Flavored with ginger and oyster sauce, this recipe will elevate your broccoli from a plain old side dish to the star of the show.
What is Pork and Broccoli Stir-Fry?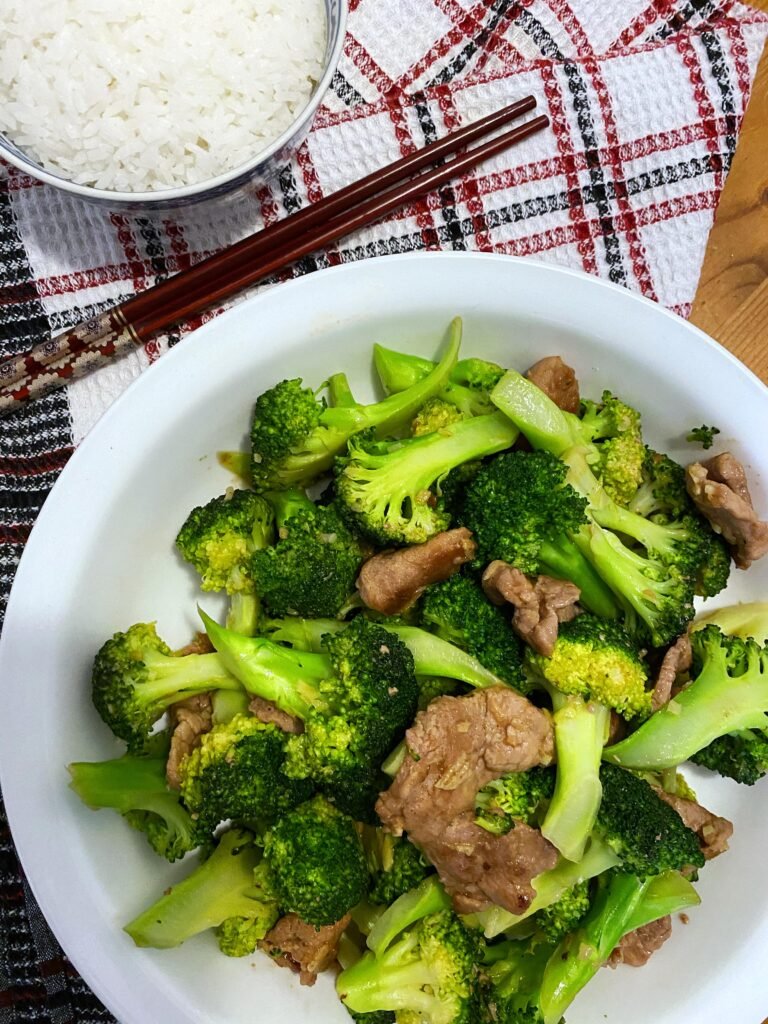 Broccoli can be quite bland on its own. That's why it's often mixed with meats and seafood in many Cantonese dishes.
From the all-time favorite Broccoli Beef to the luxurious Broccoli With Egg Whites and Crab Meat, the possibilities with this green cruciferous vegetable are endless.
Pork and Broccoli Stir-Fry is one of the most budget and delicious options you can make.
That's why it's a staple on the dinner table for many families in Hong Kong.
Tips For Pork and Broccoli Stir-Fry
Wash Your Broccoli: Soaking vegetables with large flowering heads, such as broccoli and cauliflower, in lightly salted water is a good way to clean them. Trust me, you do want any bugs or critters in your dish.
Don't Waste The Stem: When cutting the broccoli, the florets should include part of the stem as well as the flowery part. The stems are edible, they are crunchy and tasty. After cutting the florets, remove the outer fibrous layer of the stem with a vegetable peeler, then slice it thinly at a 45-degree angle, and cook with the florets.
Adjust The Cooking Time: If softer crunch broccoli is preferred, add another tablespoon of water, cover, and cook for an additional minute.
Frequently Asked Questions
What can I serve this dish with?
This dish can be served on its own with rice. Or it can be served as a side dish to other main dishes like Soy Sauce Chicken Wings.
Can I prepare this in advance?
No. This dish tastes the best fresh off the stove.
Can this dish be frozen?
No. Veggies like broccoli do not freeze well.
Pork and Broccoli Stir-Fry
Crunchy Broccoli with slices of pork cooked in oyster sauce.
Ingredients
3

Medium Broccoli Crowns

250

Grams

Lean Pork

1

Tbsp

Ginger Finely Chopped

2

Garlic Cloves Minced

2

Tbsp

Cooking Oil

1/3

Tsp

Salt

10

Tbsp

Water

1

Tbsp

Oyster Sauce
Seasoning
1/4

Tsp

Salt

1/4

Tsp

Sugar

1

Tsp

Cornstarch

1

Tbsp

Soy Sauce

1

Tbsp

Water
Instructions
Cut broccoli into medium-sized florets, soak in salted water for 15 minutes, then rinse and drain.

Meanwhile, sliced pork thinly, and add the combined seasonings, leave for 10 minutes.

Peel and finely chop 1 tbsp ginger, and minced 2 garlic cloves.

Heat 1 tbsp cooking oil in the pan to medium, then add ginger and saute until fragrant.

Turn heat to high and add broccoli and saute for 2 minutes.

Add 1/3 tsp salt and 3 tbsp of water, cover, and cook for 2 minutes.

Remove broccoli and set aside on a plate.

Wipe down the pan and add 1 tbsp cooking oil.

Add pork, loosen meat evenly in pan, leave for 1 minute, then turn the meat over and leave for 1 minute.

Lower heat to medium, add garlic and saute for 1 minute.

Add oyster sauce, the remaining water, cover, and cook for 3 minutes.

Return broccoli into pan and saute for 1 minute.
For a vegetarian version of this recipe:
Broccoli With Oyster Sauce Recipe (Ready In 5 Minutes)