Make picture perfect oven roasted potatoes that are golden brown on the outside and moist on the inside every single time with this recipe.
Oven Roasted Potatoes Ingredients
Potatoes: I love using new potatoes or baby potatoes for this recipe. They usually come pre-washed in a bag. All you have to do is plop them onto a baking sheet and you're good to go!
Olive Oil: Use any kind of vegetable oil you have on hand. Be generous with the oil. The oil keeps the potato moist and makes the potato skin nice and brown.
Salt and Pepper: I like to keep my seasonings simple by just using salt and pepper. You can add some garlic powder if you wish.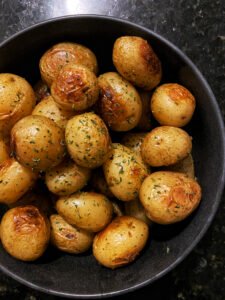 How Do You Make Roasted Potatoes Not Dry?
The key to making roasted potatoes that are moist and fluffy on the inside is to leave the intact before roasting.
Cutting your potatoes in half or quarters will make the inside dry.
This is why I recommend using small or baby potatoes for this recipe, so you can cook them whole.
What To Serve With Oven Roasted Potatoes
Some great main dishes to serve with these oven roasted potatoes are:
Barbeque Ribs
Baked Salmon
Sandwiches
Fried Chicken
How To Store Oven Roasted Potatoes
You can store this oven roasted potatoes in the fridge for up to 3 days.
To reheat, simply nuke it in the microwave for 1-2 minutes.
One of my favorite ways to use up leftover roasted potatoes is to make a roasted potato salad.
Frequently Asked Questions About Oven Roasted Potatoes
Is it necessary to boil potatoes before roasting?
No. It is not necessary to boil potatoes before roasting.
As long as you use small potatoes or cut your potatoes small enough, they will cook through in the oven.
What Temperature Should You Roast Potatoes At?
You should roast potatoes at 425 degrees F.
Roasting them at a high temperature will help your potato brown nicely on the outside.
How long should I roast potatoes at 425?
You should roast your potatoes 425 degrees F for around 25 to 30 minutes.
Check the potatoes at 25 minutes to see if they are done. Leave them in for 5 minutes more if they look a little pale.
Oven Roasted Potatoes
These golden brown roasted potatoes makes the perfect side dish.
Equipment
1 Baking sheet

1 Parchment paper

(optional)
Ingredients
1

bag

New Potatoes (Baby Potatoes)

680g (1.5lbs)

2

tbsp

Olive Oil

3/4

tsp

Kosher Salt

1/2

tsp

Black Pepper
Instructions
Preheat oven to 425 degrees F. Line a baking sheet with parchment paper.

Place potatoes onto the baking sheet. Toss with oil, salt, and pepper.

Place into preheated oven and bake for 25-30 minutes until the outside is golden brown. At the 15 minute mark, give the pan a good shake to ensure even browning.