Tired of instant noodles and MSG-laden soups? Make this Chinese Cabbage Noodle Soup with a homemade broth—all ready within an hour.
The best part about this soup is that is a meal in and of itself.
It has your starch, your protein, and your veggies—everything you want in a balanced diet—all in one bowl.
Pour some of that piping hot broth into the noodles and you'll end up with a hearty bowl of noodle soup.
Chinese Cabbage Noodle Soup
The essence of this Chinese Cabbage Noodle Soup lies in the broth.
Plain old chicken broth is elevated to the next level by adding Chinese cabbage, dried shrimps, pork, and shiitake mushrooms.
Each of these ingredients brings something to the table. The cabbage adds sweetness. The dried shrimps add delicate umami flavors. The pork adds richness. Finally, the shiitake mushrooms balance the soup with earthiness.
What you end up with is a broth that is out of this world.
Frequently Asked Questions About Chinese Cabbage Noodle Soup
What can I serve this dish with?
If you're in a pinch, this noodle soup can absolutely be served on its own. But feel free to serve it with some side dishes like Char Siu (Chinese BBQ Pork) and Cucumber and Black Fungus Salad.
Can I prepare this in advance?
Yes. You can prepare the soup in advance. But cook the noodles just before serving to prevent them from getting soggy.
Can this dish be frozen?
Yes. You can freeze the soup in the freezer for up to 3 months. Simply thaw and reheat the soup to serve with fresh noodles.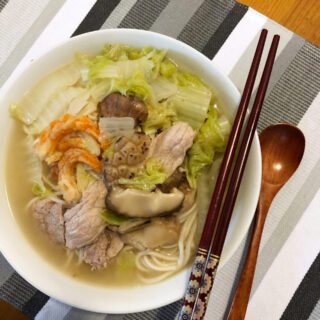 Chinese Cabbage Noodle Soup
Soft rice noodles infused with delicious napa cabbage, pork, shitake mushrooms and dried shrimps soup.
Ingredients
6

Cups

Napa Cabbage Medium Sliced

400

Grams

Pork Fillet Thinly Sliced

6

Rehydrated Shitake Mushrooms Thinly Sliced

1/2

Cup

Dried Shrimps

3

Slices

Ginger

8

Cups

Water

4

Cups

Chicken Stock

400

Grams

Dried Rice Noodles

1

Tbsp

Oil

1

Tsp

Salt
Marinade
1

Tbsp

Soy Sauce

1

Tbsp

Corn Starch

1/2

Tsp

Sugar

1/4

Tsp

White Pepper
Instructions
Soak dried shrimps in some hot water till softened, about 15 minutes, rinse, and drain.

Meanwhile, slice pork and add marinade.

Slice napa cabbage, shitake mushrooms, and ginger.

Heat oil in a large saucepan, add ginger, and saute in medium heat till fragrant.

Add dried shrimps and saute till fragrant, then add mushrooms and finally the napa cabbage, saute for 3 minutes.

Add chicken stock and 2 cups water and bring to boil.

Then add the pork, allow soup to return to a boil, reduce heat to medium, cook for 10 minutes, and add salt to taste.

While the soup is cooking, boil 6 cups of water in a large pot. Add the noodles and cook for 5 minutes. Drain and rinse the noodles in cold water, then drain them again.

Add the noodles to the soup and heat for 2 minutes. serve immediately.
Notes
1. There are many kinds of rice noodles. It is important to follow cooking instructions and recommended serving sizes on the packaging.
2. The soup can be made entirely from chicken stock, but adding some water allows the flavor of the napa cabbage and shitake mushrooms to come through.
3. Dried shrimps give an intense savory flavor to the soup. Use medium to small dried shrimps because they soften faster. Some dried shrimps need rinsing several times to get rid of the sand.