Want to try making Char Siu on your own? Try this beginner-friendly recipe.
This sweet and sticky sauce-slathered barbequed pork is absolutely divine with a side of white rice.
This Char Siu recipe is cooked in the oven, so you don't need any fancy equipment and gadget.
And yes, this recipe guarantees those little charred bits—which we all know are the best parts of Char Siu.
What is Char Siu?
Char Siu (叉燒) is one of the most iconic and popular dishes in Cantonese Cuisine.
Char Siu, along with other Siu Mei (燒味) like roasted pork and roasted duck are dinner-time staples for many Hong Kongers.
The essence of Char Siu lies in the sauce, which is a sweet and sticky sauce that creates a caramelization of the surface in the oven.
Char Siu is usually quite fatty when you order it from restaurants.
That's why I prefer to make it at home where I can make it with pork that's less fatty for a healthier everyday dish.
Frequently Asked Questions For Char Siu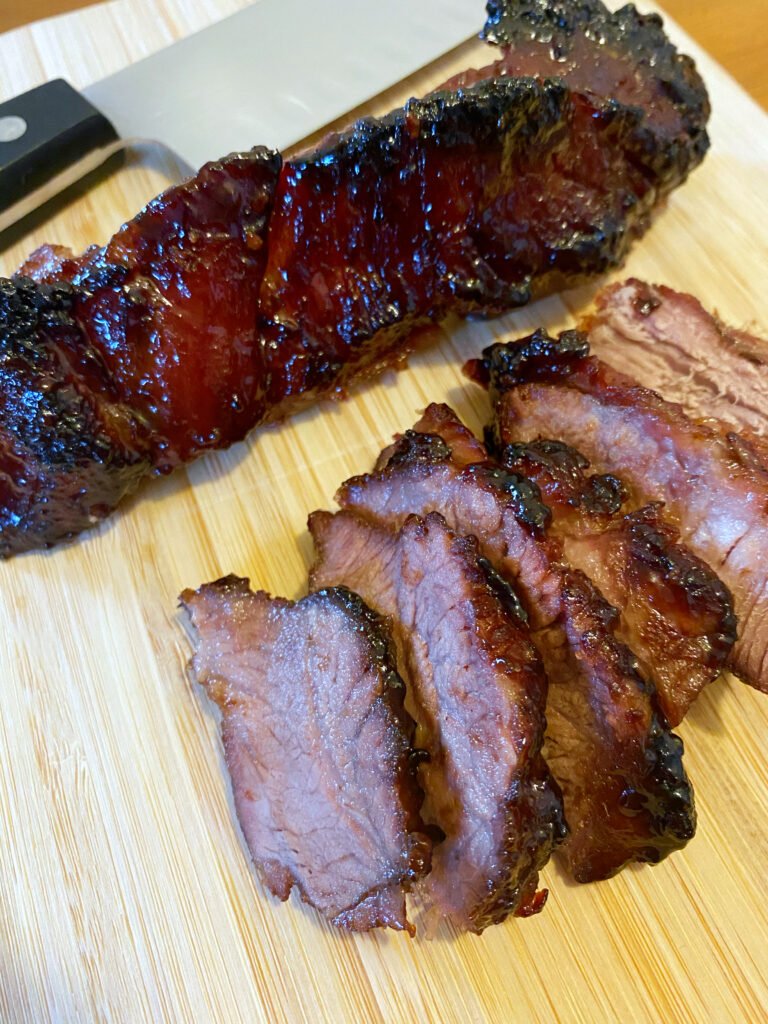 What can I serve this dish with?
Char Siu is best served with white rice. You can pair it with lighter side dishes like Broccoli With Oyster Sauce.
Can I prepare this in advance?
Yes. The pork can marinate in the fridge in advance. But Char Siu is best served straight from the oven.
Can this dish be frozen?
No. Char Siu does not freeze well.
Char Siu (Chinese BBQ Pork)
"Char Siu" one of the most iconic food of Hong Kong-perfectly charred, sweet, sticky and juicy roasted pork.
Ingredients
850

Grams

Pork Shoulder Steaks

1/4

Cup

Barbeque Pork Sauce

1/4

Cup

Soy Bean Paste

1/4

Cup

Sweet Soy Bean Paste

1/4

Cup

Mei Kuei Lu Chiew

Cooking Wine

1/2

Cup

Liquid Cane Sugar

4

Tbsp

Hot water
Instructions
Cut the pork shoulder into 11/2 to 2 inches thick steaks.

Rinse and dry thoroughly with paper towels.

Mix the barbeque pork sauce, soybean paste, sweet bean paste, and Mei Kuei Lu into a smooth paste.

Rub the marinade into each piece of meat thoroughly for at least a minute.

Cover and refrigerate for 3 hours; bring to room temperature 30 minutes before cooking.

Pre-heat oven to 425F and place a roasting rack on a foil-lined baking sheet.

Place steaks on the rack and add some water to the baking sheet.

Reduce oven temperature to 375F after 15 minutes.

Turn the meat over after 10 minutes.

Mix the liquid cane sugar and the hot water in a deep dish.

Remove the pork after 10 minutes and increase oven temperature to 475F.

Place the meat into the liquid cane sugar so that they become thoroughly coated.

Return the pork to the oven and roast for 5 minutes, turn the meat over and roast for another 5 minutes.
Notes
1. Well-marbled pork shoulder is preferred for making this dish. Most of the fat will be rendered during cooking leaving the meat flavorful and tender.
2. The smooth soybean paste is preferred instead of the whole soybean paste.
3. Lining the rack with aluminum foil makes cleaning up easier.
4. Roasting a fatty cut of meat like pork shoulder in high heat gives off smoke, adding some water to the baking sheet reduces smoking during cooking.
5. Roasting the meat in high heat initially helps to seal the juice and returning to high heat after the cane sugar coating helps to char the meat.
6. Let the meat rest for 15 minutes after cooking to allow the juices to return to the meat.
7. This recipe does not use any food coloring so the roasted pork has a dark red color instead of the bright red color sometimes seen in barbeque stores where food coloring is used.
8. Traditionally the roasted pork is sliced into 1/2 inch thickness and served on a bed of hot fluffy white rice.