Craving Chinese food but want a lighter meal at the same time? Try this Chicken Stir-Fry With Celery and Cashews.
This dish can be a meal on its own because it has the perfect balance of protein and veggies.
The succulent and tender chicken plays well with the crunchy celery.
A handful of toasted cashews add rich nuttiness and add that oomph which you'll love.
Chicken Stir-Fry With Celery and Cashews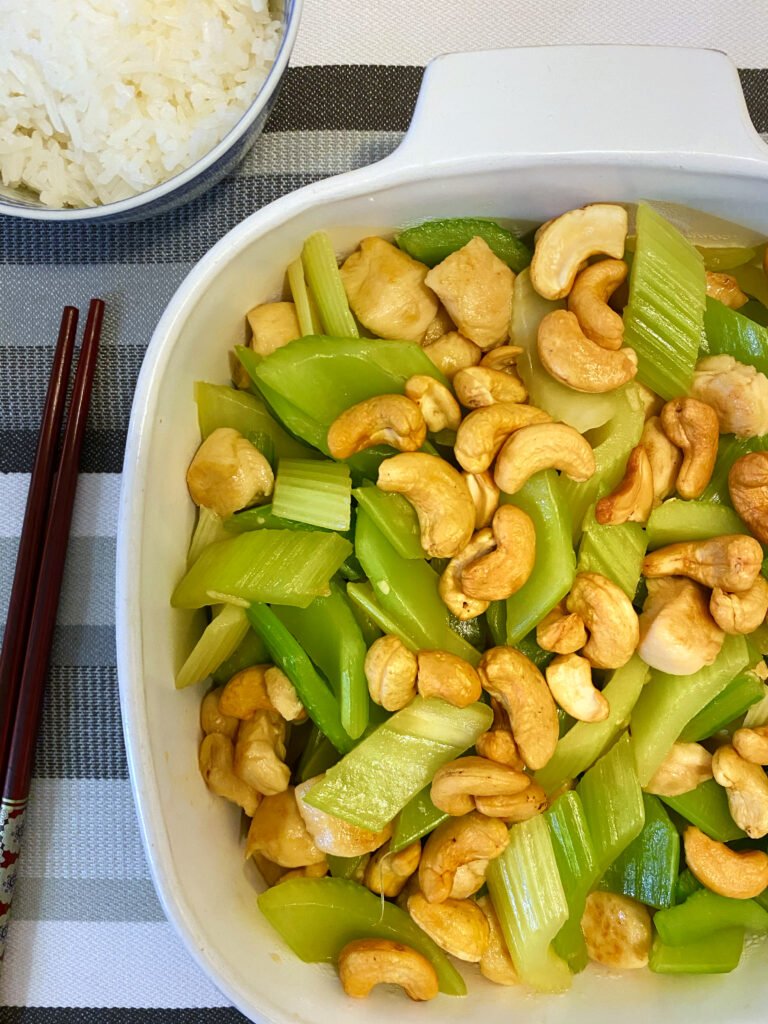 Chicken stir-fry with celery and cashews is a popular dish in both households and restaurants in Hong Kong.
Most of the locals in Hong Kong prefer light and healthy meal options, so this dish definitely fits the bill.
This stir-fry only requires a few basic ingredients.
And the best part is it can be thrown together in minutes, which makes it the perfect dinner to make for busy weeknights.
Frequently Asked Questions For Chicken Stir-Fry With Celery and Cashews
What can I serve this dish with?
This dish can be served on its own with a side of white rice. But you can also serve it as a vegetable dish along with other dishes like Green Beans Omelet and Soy Sauce Chicken Wings.
Can I prepare this in advance?
No. This dish tastes the best fresh off the stove.
Can this dish be frozen?
No. Veggies like celery do not freeze well.
Chicken Stir-Fry With Celery and Cashews Recipe
A simple delicious dish of crunchy sweet celery with tender chicken and creamy cashew nuts.
Ingredients
1

Head Of Celery

350

Grams

Chicken Tenders

1/3

Cup

Unsalted Cashew Nuts

3

Ginger Slices

1

Garlic Clove Minced

2

Tbsp

Oil

2

Tsp

Oyster Sauce

1/2

Cup

Water

1

Tsp

Sugar

1/2

Tsp

salt

1/3

Reserved liquid from cooked celery.
Marinade For Chicken
1/4

Tsp

Salt

1/4

Tsp

Sugar

1

Tbsp

Soy Sauce

1

Tsp

Cornstarch

2

Tbsp

Water

1/4

Tsp

White Pepper
Instructions
Cut the chicken tenders into 1-inch chunks.

Season chicken with marinade, and set aside for 15 minutes.

Wash the celery stalks; remove and discard the foliage; dry thoroughly with paper towels.

Cut the celery stalks on a bias at 45 degrees into 1/2 inch pieces.

Heat 1/2 tbsp oil to medium hot, add ginger slices, and saute till fragrant.

Add celery and saute for 1 minute, then add sugar and salt and saute for 1 minute.

Add 1/4 cup water, cover, and cook for 3 minutes.

Transfer celery onto a plate, save the liquid, and set aside.

Add 1 1/2 oil to a clean pan and heat to medium-high.

Add chicken, gently loosen meat evenly in pan and leave to cook for 1 minute, turn chicken over, add garlic and saute for 3 minutes.

Add the oyster sauce, the reserved liquid from cooking the celery, and 1/4 cup water, stir well.

Cover and cook for 3 minutes.

Add the cooked celery, mix well.

Turn off the heat then add the cashew nuts.
Notes
1. Run a vegetable peeler gently on the outermost stalks which tend to be a little fibrous.
2. Use all of the reserved flavorful celery juice to cook the chicken, and reduce the amount of water added if necessary.
3. Thicken the sauce of the chicken with 1 tsp cornstarch mix with 1 tbsp water if necessary.
4. Turn off the heat before adding the cashew nuts to retain the crunchiness of the nuts.