What is Sesame Tofu Salad?
Spring mix salad with crumbled tofu on top with a sesame-ponzu dressing.
This recipe is super easy and ready to eat in 5 minutes.
This salad is vegan, vegetarian, and low in calories.
The tofu adds a lot of protein to the dish.
This salad is perfect for those who are looking for a filling but healthy meal.
Ingredients For Sesame Tofu Salad
Here are the key ingredients you will need to make this Sesame Tofu Salad.
1. Firm Tofu
The main star of this salad is the crumbled tofu. To make this Mapo Tofu recipe, I recommend you use firm tofu.
Supermarkets sell tofu with different firmness, so be sure to check the box before you buy it.
Firm tofu is necessary for this recipe so you get the nice crumbled texture. Soft tofu will simply turn to mush instead.
2. Spring Mix
You will need a salad base for this recipe. Any fresh greens will work, but I recommend Spring Mix for a nice variety of greens and textures.
Feel free to substitute spring mix for other salad greens such as kale, arugula, or romaine lettuce.
3. Dressing
To make the dressing for this salad, you will need ponzu soy sauce, sesame oil, and white vinegar.
Ponzu Shoyu is a citrus-based soy sauce commonly used in Japanese cuisine. It has the perfect balance of salty, tangy, and sweet.
4. Sesame Seeds
Toasted sesame seeds add a beautiful crunch and nutty flavor to the salad.
Sesame seeds also have some fats and protein in them so they will help keep you full longer.
Tips For Sesame Tofu Salad
1. Remove Excess Water From Firm Tofu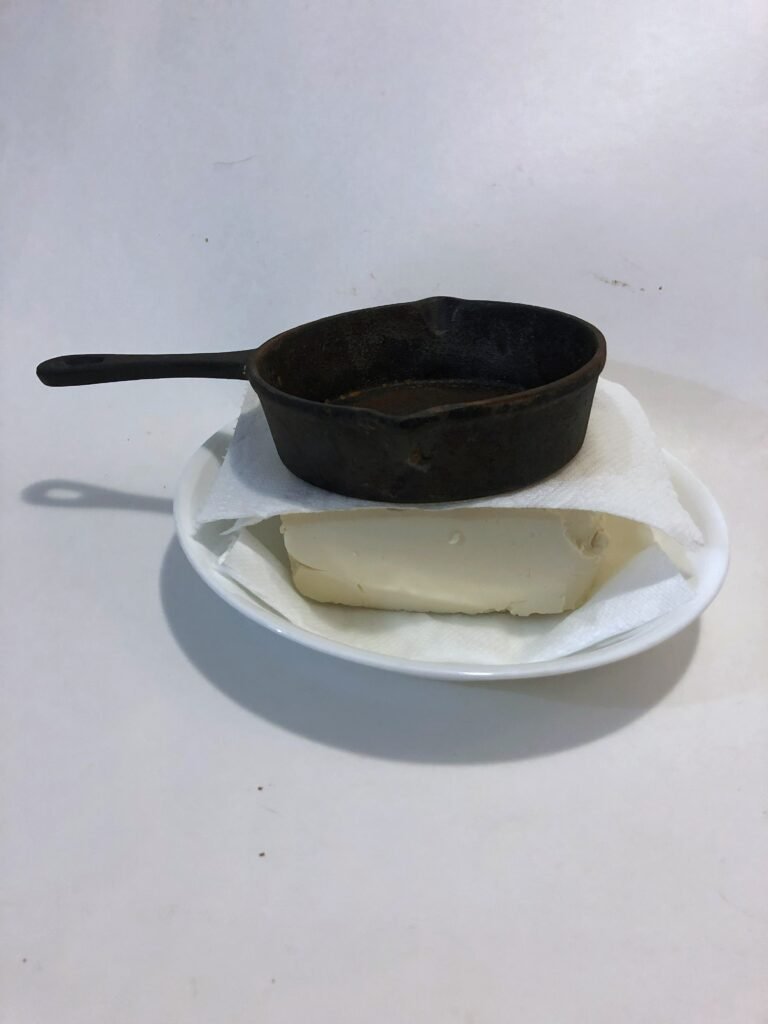 Tofu has a lot of water in them.
In order to prevent your salad from getting too soggy, you should remove the excess water from it before you use it.
Wrap the tofu in paper towels and put a weighted object (like a small cast iron pan as in the picture) to gently press out excess water.
2. Toast Your Sesame Seeds
Sesame seeds don't have much flavor when they are in the jar.
The best way to wake up that nutty flavor is to toast them on the saucepan on medium heat for a few minutes.
Remove from the heat once you can smell the nutty aroma.
Frequently Asked Questions
What can I serve this dish with?
This Sesame Tofu Salad can be a meal on its own because of how filling the tofu is. But it also goes great as a side dish to other Asian style dishes.
Can I prepare this in advance?
You can prepare the salad, crumbled tofu, toasted sesame seeds, and dressing in advance.
In order to prevent the salad from getting soggy, toss the salad immediately before serving.
Can this dish be frozen?
No. This salad cannot be frozen.
Sesame Tofu Salad Recipe
Ingredients
3

Cups

Spring Mix

1

Cup

Firm Tofu

1

Tbsp

Sesame Seeds
Dressing
1

Tbsp

Ponzu Soy Sauce

1/4

Tsp

Sesame Oil

1

Tbsp

White Vinegar

1

Tbsp

Extra Virgin Olive Oil

Sprinkle of Salt
Instructions
Wrap firm tofu in a paper towel and gently squeeze (or place a heavy object on it) to remove excess water. Set aside to drain.

Prepare the dressing by mixing together ponzu soy sauce, sesame oil, white vinegar, olive oil, and a sprinkle of salt. Whisk together and set aside.

Put the sesame seeds on a saucepan and set it to medium heat. Toast for 3-4 minutes or until you smell a nutty aroma. Immediately remove from heat to prevent sesame seeds from burning.

Assemble the salad by mixing together the spring mix, toasted sesame seeds, and dressing. Crush the drained tofu with your hands (or a fork) and mix it into the salad.

Toss the ingredients together with your hands (or tongs).

Garnish the salad with additional sesame seeds if desired.
Notes
Want more crunch? Top the salad with nuts, croutons, or fried wonton strips.
Want to lower the calorie count? Skip the olive oil or decrease it to 1 tsp.
If you've tried this Sesame Tofu Salad recipe then don't forget to rate the recipe and let me know what you think in the comments below. I love hearing from you!
READ NEXT: Mapo Tofu Recipe: Quick and Easy