Baked Pork Chop Rice is on every Hong Kong cafe's menu for a good reason.
Rich tomato sauce is poured over a bed of golden fried rice with tender pork chops and then baked to perfection.
Baked Pork Chop Rice is the ultimate Cantonese comfort food.
Hong Kong Baked Pork Chop Rice
Baked pork chop rice is a favorite for Hong Kongers young and old.
I mean… what's not to like?
It checks all the boxes people look for in Hong Kong cuisine.
It's got the rice, the meat, the veggies (not much but it's there I promise), and a heavenly sauce.
Want to make this dish even richer? Add some (or lots) Mozerella cheese on top before baking for that ooey-gooey cheese-pulling dairy goodness.
Frequently Asked Questions About Hong Kong Baked Pork Chop Rice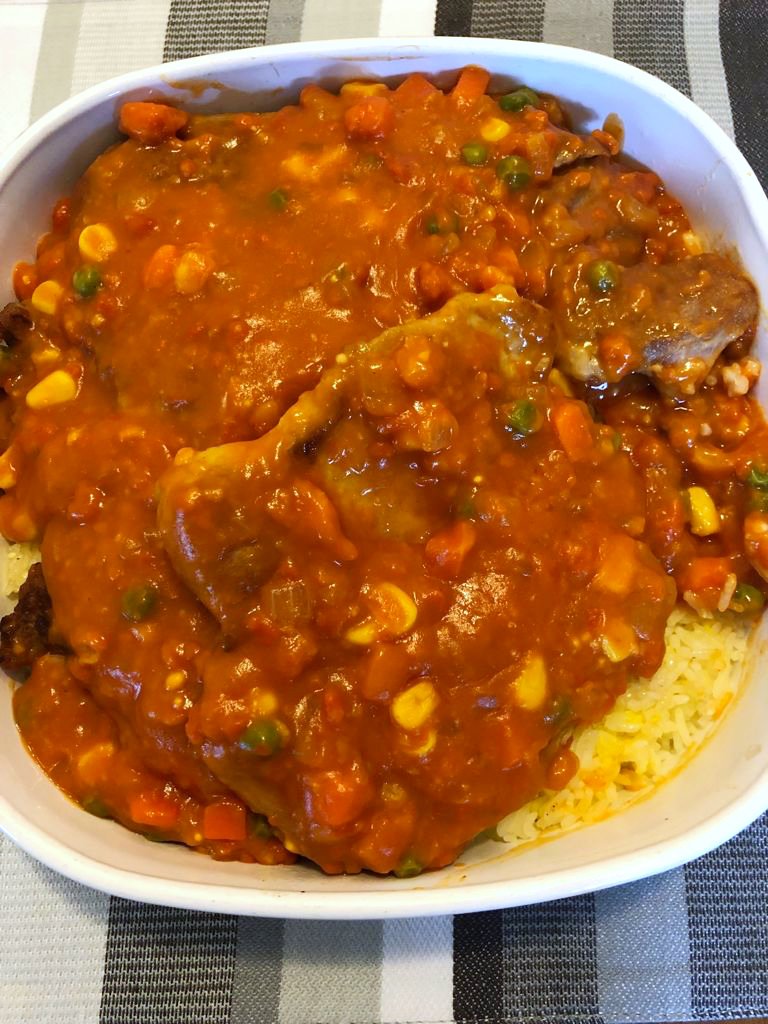 What can I serve this dish with?
Serve Baked Pork Chop Rice with a vegetable dish like Lotus Root Stir Fry (蓮藕炒木耳) or Broccoli With Oyster Sauce Recipe (蠔油西蘭花).
Can I prepare this in advance?
Yes. You can prepare this dish in advance and reheat it in the oven or microwave. You can store it in the fridge for up to 3 days.
Can this dish be frozen?
Yes. This dish can be frozen for up to 3 months. To serve, simply thaw and reheat in the oven or microwave.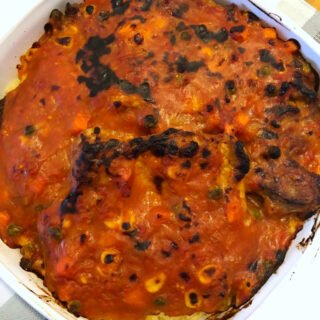 Hong Kong Baked Pork Chop Rice
A classic Hong Kong dish of perfectly seared pork chops on a bed of fragrant egg fried rice, smothered with a special tomato sauce.
Ingredients
4

Pieces

Boneless Rib End Pork Chops

6

Cups

Day Old White Rice

2

Eggs Beaten

1

Tsp

Salt

3

Tbsp

Oil

Divided

1/2

Cup

Frozen Vegetable Medley
Pork Chop Marinade
1

Egg Beaten

1

Tsp

Salt

1/2

Tsp

Sugar

1/4

Tsp

White Pepper

1

Tbsp

Soy Sauce

1

Tbsp

Flour

1

Tbsp

Cornstarch

1

Tsp

Oil
Tomato Sauce
1/3

Cup

Diced Onions

3

Tbsp

Tomato Paste

1/3

Cup

Ketchup

1

Tbsp

Flour

1 1/4

Cup

Unsalted Chicken Stock

1

Tbsp

Oil

2

Garlic Cloves Minced

1

Tsp

Salt

1

Tsp

Sugar
Instructions
Pre-heat oven to 400F.

Prepare the marinade by combining all the ingredients, except the oil, into a smooth paste.

Tenderize the pork chops with a meat mallet. Then gently rub the marinade into the meat thoroughly for about 1 minute. Seal the meat with a tsp of oil, and set aside for 10 minutes.

Heat 2 tbsp oil in a pan to medium-high, add pork chops and leave them to sear for 1 minute, or until a golden crust is formed, turn the meat over and sear for another minute to form crust.

Reduce heat to medium and cook the chops for 3 minutes, remove and set aside.

Add 1 tbsp oil into the same pan, heat to medium-high, then add rice and stir fry for 3 minutes.

Make a well in the middle of the rice and pour the egg mixture in and scramble till semi-formed, then stir the rice into the egg, add the frozen veggies and continue to stir fry for 1 minute, add salt and stir well.

Remove the fried rice into a baking dish, then place the pork chops over the rice.

Put 2 tbsp oil into the pan and heat to medium-high, add diced onions and stir fry for 2 minutes, then add the garlic and saute till fragrant.

Add the tomato paste to the mixture and stir everything together well for about a minute, then add the ketchup and mix well.

Add flour and blend it into the mixture thoroughly, then slowly add the chicken stock and stir vigorously to avoid lumps forming, simmer till the sauce thickens.

Season the sauce with salt and sugar.

Spoon sauce onto the pork chops and the rice covering them completely.

Bake for 10 minutes then broil for about 5 minutes until the top is slightly charred.
Notes
1. For a richer version of this dish, sprinkle grated Mozerella cheese over the sauce and bake till golden brown.
2. Searing the pork chops locks in the juice to keep the meat tender, it also forms a nice crust to prevent the pork chops from getting soggy from the sauce.
3. To simplify the process, pork chops can be prepared and marinated ahead even up to overnight.
4. You can cook this dish ahead and freeze it. Cover with foil and reheat thoroughly in medium-low heat until the center is heated through.