Eight Treasure Stir Fry is the perfect colorful festive dish to serve during Chinese New Year.
Packed with tons of vegetables, it will be a much-appreciated addition to your dinner table.
Serve this with rice or switch it up by making some lettuce wraps with it!
Eight Treasure Stir Fry
As the name implies, this dish is a stir fry with eight ingredients in it.
The eight ingredients I chose are yam beans, carrots, preserved radishes, shiitake mushrooms, dried shrimps, red bell peppers, celeries, and peanuts.
Feel free to switch up the ingredients to your liking. For example, you can omit the dried shrimps to make the dish vegetarian. Simply replace it with another ingredient.
Any vegetables with a crunchy texture will work great for this dish.
Frequently Asked Questions About Eight Treasure Stir Fry
What can I serve this dish with?
This is a great dish to serve during Chinese New Year. Serve this with main dishes like Braised Chicken With Shiitake Mushroom and Black Fungus (冬菇燜雞) and a soup such as Chinese Chayote Soup (合掌瓜湯).
Can I prepare this in advance?
Yes. You can prepare this in advance and reheat it in the microwave. You can store it in the fridge for up to 3 days.
Can this dish be frozen?
Yes. This can be frozen for up to 3 months. To serve, simply thaw and reheat in the microwave.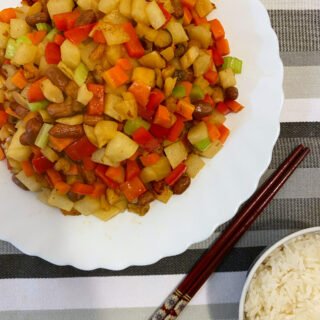 Eight Treasure Stir Fry
Stir fry eight crunchy and sweet ingredients together for a popular good luck Chinese New Year dish.
Ingredients
1

Cup

Small Diced Yam Bean

1

Cup

Small Diced Carrots

1/3

Cup

Small Diced Preserved Radish

1/3

Cup

Small Diced Shiitake Mushrooms

1/3

Cup

Small Diced Dried Shrimps

1/3

Cup

Small Diced Red Bell Pepper

1/3

Cup

Small Diced Celery

1/4

Cup

Peanuts

8

Iceberg Lettuce Leaves

1/2

Tsp

Salt

1

Tbsp

Shiaoshing Wine
The Sauce
1

Tbsp

Oyster Sauce

1

Tsp

Cornstarch

2

Tbsp

Water
Instructions
Prepare the iceberg lettuce cups first by removing the stalk and placing the whole lettuce in cold water.

Loosen lettuce leaves gently and use scissors to cut the top half of the leaf into a palm-size rounded shape.

Drain, pat dry with paper, and place uncovered in the fridge for at least half an hour to dry out moisture.

Soften dried shrimps in warm water, drain, rinse and pat dry with paper; diced the dried shrimps if necessary to match other ingredients.

Soak preserved radish in water for half an hour, rinse and pat dry with paper, then dice small.

Blanch the diced yam bean and carrots in boiling water for 1 minute, drain well.

Heat the wok to medium and stir fry the preserved radish without any oil for 1 minute until fragrant, remove to a plate and set aside.

Add oil to the same wok, heat to medium and saute the dried shrimps until fragrant, then add wine along the edge of the wok, and continue stirring.

Now add the rest of the ingredients in this order: shiitake mushrooms, preserved radish, yam bean and carrot, and red bell pepper. Saute each ingredient for 1 minute before adding the next one. Add salt and blend well.

Then add celery, stir well. Add sauce and blend well.

Stir in peanuts, and serve warm on lettuce cups.
Notes
1. Bring lettuce cups to room temperature before serving.
2. Substitute iceberg lettuce with leafy lettuce if preferred.
3. Dicing all ingredients to a similar size will ensure even cooking.
4. Dicing everything small means all the ingredients are cooked in a short time and remain crunchy.