Say goodbye to bland steamed fish with this Chinese Steamed Fish With Black Bean Sauce recipe.
The fermented salty goodness of the black beans alchemizes with the delicate flavors of fish to create this heavenly combination that is sure to please your tastebuds (and your tummy).
I promise you'll be coming back for seconds—or thirds—I won't judge, I promise.
Chinese Steamed Fish With Black Bean Sauce
It's no secret that Hong Kongers love to eat fish. Steamed fish (or some other kind of seafood) is almost a must at all dinner tables.
The secret ingredient in this dish is the black bean sauce which is an absolute staple in Cantonese cooking.
The fermented beans add intense salty flavors to compliment the natural sweetness of the fish.
Serve it with a bowl of rice and this steamed fish will become the next favorite at your dinner table.
Frequently Asked Questions For Chinese Steamed Fish With Black Bean Sauce
What can I serve this dish with?
Serve this dish a side of vegetables such as Broccoli With Oyster Sauce and Cantonese soups such as Chinese Winter Melon Soup Recipe (冬瓜湯).
Can I prepare this in advance?
You can prepare the ingredients in advance. However, the fish should be steamed immediately before serving to preserve its freshness.
Can this dish be frozen?
No. Steamed fish do not freeze and reheat well.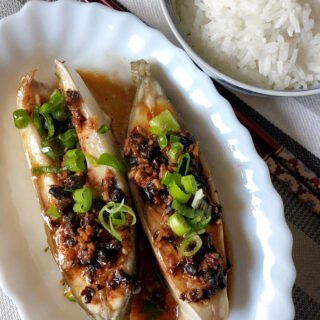 Chinese Steamed Fish With Black Bean Sauce
A simple and delicious dish of tender Chinese golden pomfret perfectly steamed with just a few handy ingredients.
Ingredients
450

Grams

Whole Golden Pomfret

1

Tbsp

Salted Black Beans

1

Tbsp

Minced Garlic

1

Tbsp

Minced Ginger

1

Tsp

Sugar

1

Tsp

Chili Garlic Sauce

1

Tbsp

Oil

Divided

1/2

Tsp

Salt

2

Green Onions Chopped
Instructions
Clean and cut the fish horizontally into 4 pieces, pat dry with a paper towel.

Put salt onto the fish and place them into a dish.

Rinse the salted black beans, drain, and roughly chopped them.

Add the minced garlic and ginger, sugar, and 1 tsp oil to the salted black beans and mix well.

Spoon the mixture evenly onto the fish, and drizzle the rest of the oil over the fish.

Bring some water to a boil in a wok and put the fish onto the steaming rack.

Cover and steam on high heat for 8 minutes.

Sprinkle the green onions over the fish.
Notes
1. Frozen golden pomfret is used in this recipe. Frozen fish can be fresh too! Just pick one that is vacuum sealed properly, and the fish eyes are not red.
2. Golden pomfret is easy to clean, it has no scales, and there are no fine bones. By cutting the fish into big pieces the salted black bean mixture is spooned directly onto the meat of the fish and so increases the flavor. Besides, it also makes serving easier.
3. The golden pomfret is one type of fish that retains its taste and texture very well even when it is not steamed whole. If the steaming whole is preferred, spoon the salted black bean mixture onto the belly of the fish as well as on top and steam for 10 minutes.