Fragrant curry with a hint of spice. This Chinese Curry Chicken is the perfect companion to a steaming bowl of jasmine rice.
Curry chicken is one of my favorite dishes as a child.
The succulent chicken simmered in that heavenly curry always makes me want to go back for seconds—and thirds.
If you are a fan of Chinese-style curry then give this recipe a try.
You will not be disappointed.
What is Chinese Curry Chicken?
Every culture has its own way of preparing its curries. Some prefer a more spicy taste, while others prefer a milder taste.
Chinese-style curry chicken is somewhat in the middle when it comes to spice levels.
The curry that's served in Hong Kong is usually on the milder side because it's been adapted to suit the lighter palette of Cantonese cuisine.
The addition of coconut milk makes the curry much more creamy than usual.
At the same time, coconut milk helps to cut the spice level from a hot to a mild-but-still-there level.
Key Ingredients for Chinese Curry Chicken
1. Chicken
For this recipe, I recommend you use skinless boneless chicken thigh meat.
The thigh meat is much more flavorful and succulent compared to other cuts of chicken such as chicken tenderloins.
If you want to make this recipe in a pinch, you can substitute this with chicken tenderloins or boneless chicken breasts.
2. Veggies
For this recipe, I like to use more hearty vegetables like potatoes and carrots.
But feel free to substitute with your preferred vegetables.
Bell peppers, cauliflower, and chickpeas work well.
3. Curry Paste
Any brand of Chinese curry paste will work for this recipe.
If Chinese-style curry paste is not available at your local supermarket, you can also substitute it with other curry pastes.
But do keep in mind that the spice level will vary depending on the cuisine it is intended for.
4. Coconut Milk
Coconut milk is a must for Chinese-style curry chicken.
You don't need a lot for this recipe. So just get the smallest can at the supermarket to avoid leftovers.
Frequently Asked Questions
What can I serve this dish with?
Chinese Curry Chicken is best served with freshly cooked jasmine rice. This long-grain white rice is a staple in Chinese cuisine.
Can I prepare this in advance?
Yes. This dish can be prepared in few hours in advance and reheated immediately before serving.
Can this dish be frozen?
Yes. This dish can be frozen and reheated.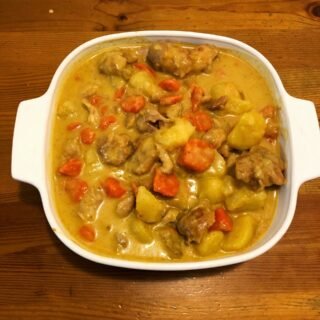 Chinese Curry Chicken
Chinese-style curry chicken with just a touch of spice to excite the palate and the sweet creamy taste of coconut for that perfect balance.
Ingredients
750

Grams

Boneless Skinless Chicken Thigh

1

Cup

Onion Medium Sliced

3

Potatoes Peeled and Medium Quartered

2

Carrots Peeled and Medium Sliced

1

Small Can of Coconut Milk

1

Tbsp

Curry Paste

4

Tbsp

Oil

1

Tsp

Salt

3

Cups

of Water
For the Marinade
1/2

Tsp

Salt

1

Tbsp

Soy Sauce

11/2

Tsp

Cornstarch

2

Tbsp

Water

1

Tbsp

Oil
Instructions
Cut the chicken into medium sized pieces.

Blend the marinade ingredients together except for the oil.

Rub the marinade into the meat to coat evenly, then seal with the oil, and leave for 10 minutes.

Heat 2 tbsp of oil to medium, add onions and saute till fragrant.

Add carrots, saute for 2 minutes then add potatoes and saute for another 2 minutes.

Make room in the center of pot and add the curry paste, stir till fragrant, then blend in all the vegetables.

Add water, bring to a boil, cover and cook on medium heat.

Heat 2 tbsp oil to high in another pan, add chicken, do not stir for 1 minute.

Turn meat over and sear for another 1 minute.

Add meat into curry sauce and continue cooking on medium low heat for 35 minutes.

Add coconut milk, stir well and add salt.
Notes
1. You can substitute chicken drumsticks for the skinless boneless chicken thigh if preferred. But if bite size chicken breast is used, reduce the cooking time of the meat in the curry sauce to 15 minutes.
2. The flavor of this dish actually improves if it is left to stand covered for an hour. Reheat over medium before serving.
3. This robust dish is a good make-ahead choice, you can refrigerate or freeze it, and just reheat when needed.
4. Heat levels of stoves vary a lot, so adjust the levels accordingly to achieve a thick sauce. Another tip to avoid a watery sauce is to dice one of the potatoes so they break up to thicken the curry.
Love chicken? Check out these other chicken recipes:
Soy Sauce Chicken Wings Recipe
,
Steamed Chicken with Shiitake Mushrooms and Black Fungus