Braised White Radish And Cured Duck Legs is a homestyle dish that you won't be able to find in most restaurants.
It's comfort food that your grandma or mom makes for the family and that's what makes it such a treat.
The savory cured duck pairs so well with the delicate flavor of the white radish.
Give this recipe a go the next time you're craving flavors from home.
Braised White Radish And Cured Duck Legs
The winter season is when we usually crave more indulgent dishes.
Braised White Radish And Cured Duck Legs is the ultimate comfort food for the winter.
The white radish is completely infused with the savory goodness of the cured duck.
Serve it with a bowl of white rice and you're all set!
Frequently Asked Questions About Braised White Radish And Cured Duck Legs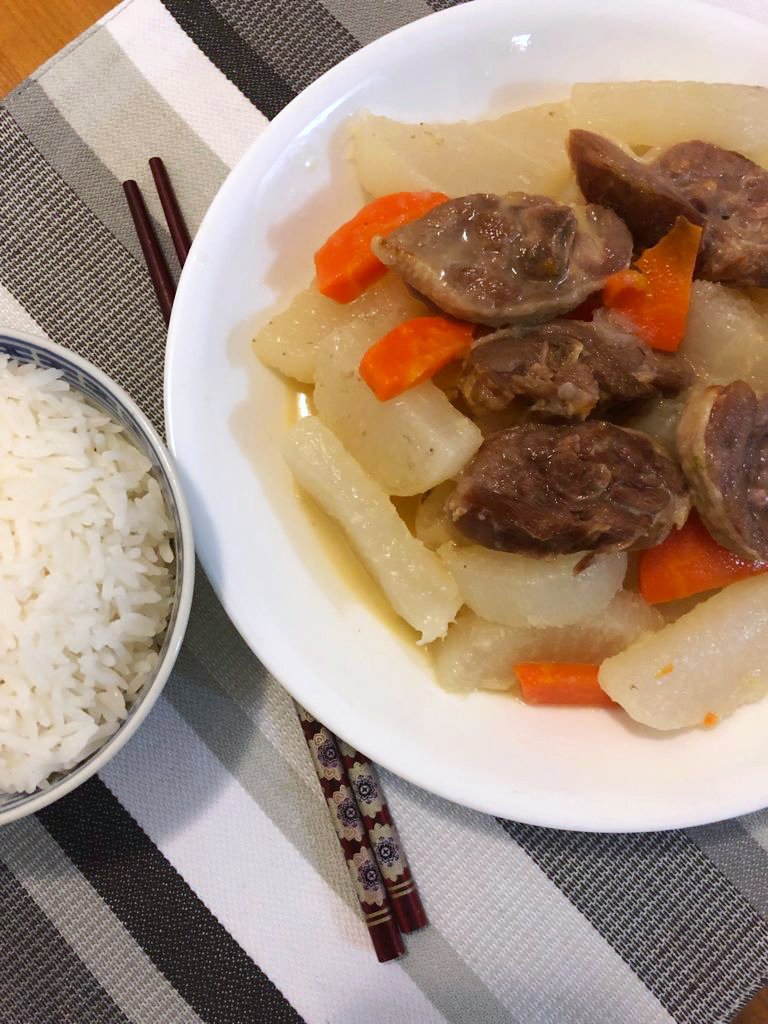 What can I serve this dish with?
Serve this with side dishes like Broccoli With Oyster Sauce Recipe (蠔油西蘭花) and a soup such as Chinese Winter Melon Soup Recipe (冬瓜薏米湯).
Can I prepare this in advance?
Yes. You can prepare this in advance and reheat it in the microwave. You can store it in the fridge for up to 3 days.
Can this dish be frozen?
Yes. This can be frozen for up to 3 months. To serve, simply thaw and reheat in the microwave.
Braised White Radish And Cured Duck Legs
Both the cured duck legs and the white radish have distinctive strong flavors, but when cooked together, the salty cured duck legs combined with the sweet white radish produced a perfectly balanced dish.
Ingredients
2

Cured Duck Legs

1

White Radish 700 Grams

1

Small Carrot Sliced

4

Slices

Ginger

1

Tsp

Sugar

1

Tbsp

Oil

1

Tsp

Cornstarch Mixed With 1 Tbsp Water
Instructions
Bring 2 pots of water to a boil.

Meanwhile, peel the white radish, cut it into half lengthwise then cut across into 1-inch slices; also peel and slice the carrot.

Add 2 slices of ginger and 1 tsp sugar into the boiling water, then blanch the white radish for 5 minutes, reserve 1 cup of the water, and drain.

Rinse the duck legs and blanch them in boiling water for 3 minutes.

Trim any excess fat from the duck legs and cut it into 1-inch pieces.

Heat oil to medium hot, add the duck legs skin side down to brown slightly.

Then add the remaining ginger slices and saute with the duck legs till fragrant.

Turn heat to high and add the white radish and carrots, sauteing well.

Add the reserved water to about halfway, bring to a boil, then reduce heat to medium, cover, and cook for 15 minutes.

Remove lid, check if added salt is needed, then stir in the cornstarch paste a little at a time till sauce thickens, serve.
Notes
1. Blanching the white radish reduces the juice released into the sauce and dilutes it when braising.
2. Blanching the cured duck legs reduces the salty taste as well as some of the fat.
3. Cured duck legs vary in saltiness, so check the taste before adding salt before serving.