Tired of making the same old seared salmon recipe? Add some Cantonese flare to your dinner table by making this Braised Salmon With Deep-Fried Tofu Balls.
Ready in just under 30 minutes, this protein-packed dish is perfect for weeknight dinners.
Salmon With Deep-Fried Tofu Balls
Braised Salmon With Deep Fried Tofu Balls (三文魚豆卜) is Hong Kong's take on the traditional seared salmon.
The salmon is seared to perfection and then braised with a sweet and savory soy sauce.
The deep-fried tofu balls soak up all the juices from the salmon and the soy sauce—turning them into succulent flavor bombs.
This dish is sure to please all salmon lovers out there.
Frequently Asked Questions For Salmon With Deep Fried Tofu Balls
What can I serve this dish with?
Serve this dish with a bowl of rice and a side of vegetables such as Broccoli With Oyster Sauce or Cucumber and Black Fungus Salad.
Can I prepare this in advance?
No. This dish should be prepared immediately before serving.
Can this dish be frozen?
No. Cooked fish dishes do not tend to freeze well. Salmon tastes the best when freshly cooked.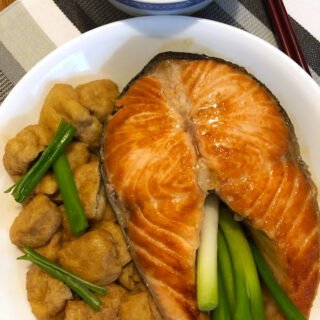 Salmon With Deep Fried Tofu Balls
Whip up a great seafood dish with this seared salmon steak braised with tofu balls in soy sauce.
Ingredients
1

Inch

Thick Salmon Steak

4

Ginger Slices

10

Chinese Deep-Fried Tofu Balls

2

Green Onions Cut Into Strips

1/2

Tsp

Salt

1/4

Tsp

White Pepper

1

Tbsp

Shaoshing Wine

1

Tbsp

Cooking Oil
Sauce
1

Tbsp

Soy Sauce

1

Tsp

Oyster Sauce

1/4

Tsp

Sugar

1

Cup

Water plus 1Tbsp Water

1

Tsp

Cornstarch
Instructions
Pat dry the salmon steak with a paper towel and season it with salt and pepper.

Rinse tofu balls in warm water, gently squeeze dry, and cut into halves.

Mix cornstarch with a tbsp of water to form a smooth paste.

Combine the rest of the ingredients for the sauce.

Add oil to a non-stick skillet and heat to medium-high.

Place the salmon into the skillet when oil is smoking hot.

Sear for 2 minutes, turn salmon over, and sear for 2 minutes.

Push the salmon to one side then add the ginger slices.

Add wine along the side of the skillet when the ginger becomes fragrant.

Add the tofu balls, green onions, and saute quickly.

Add the sauce, and bring it to a boil, then reduce heat to medium-low, cover, and cook for 10 minutes.

Add the cornstarch and stir it well to thicken the sauce.
Notes
1. The oil must be hot to get a good sear on the salmon.
2. Do not move the fish during searing.
3. Searing the fish locks in the juice and keep the salmon tender.
4. Rinsing and gently squeezing the tofu balls to remove the excess oil.
5. Add the cornstarch mixture a little at a time just until the sauce begins to thicken.