Craving noodles but the weather is too muggy for piping hot soup? Try this Zha Jiang Mian with refreshing julienned cucumber.
Ready in 30 minutes—this Zha Jian Mian recipe will become your go-to for busy weekday dinners.
What is Zha Jiang Mian?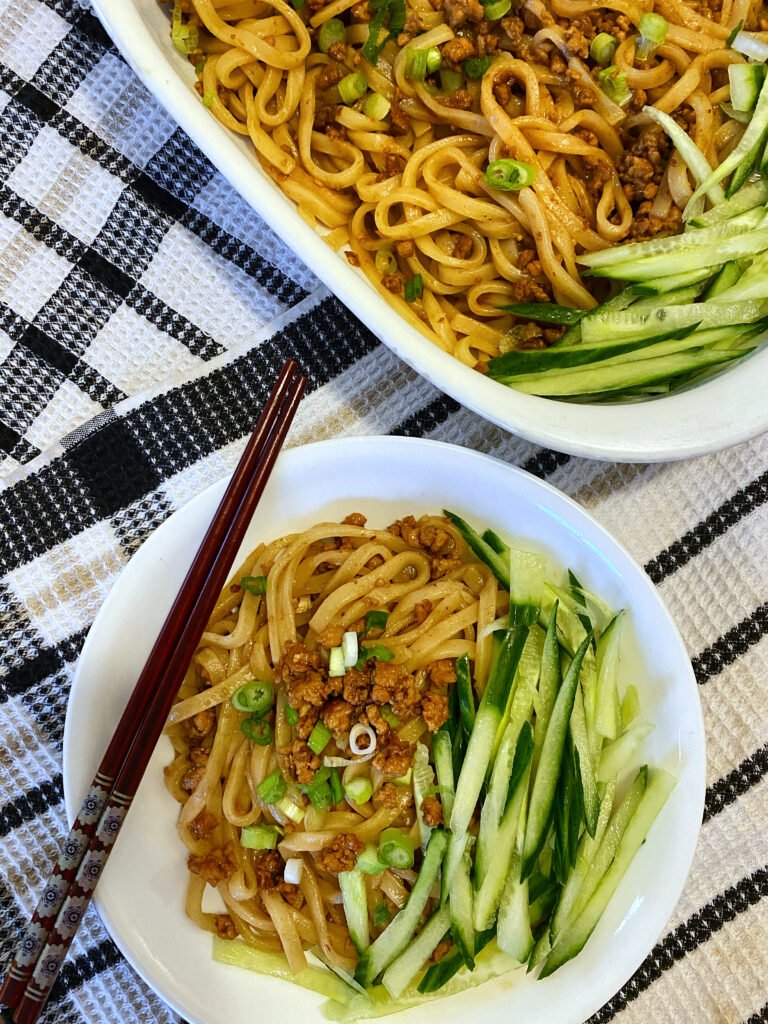 Zha Jiang Mian (炸醬麵) a.k.a. Chinese "Fried Sauce" Noodles are basically noodles with minced pork.
The minced pork is smothered in Zha Jiang sauce which is a savory fermented soybean sauce with a little kick of heat to it.
Any kind of noodles will work for this recipe—I personally prefer udon noodles because of their chewy and bouncy texture.
The noodles are usually served with fresh vegetables like cucumber on top to balance out the savoriness of the sauce.
Key Ingredients For Zha Jiang Mian
1. Noodles
The noodles are the star of the dish here.
So choose a noodle that you like.
Any noodles will work here: Chinese wheat noodles, think noodles, thin noodles, udon, or even spaghetti will work.
2. Zha Jiang Sauce
Zha Jiang sauce is actually really simple to make.
It consists of four staple sauces used in Chinese cooking: Sweet noodle sauce (a.k.a. sweet bean sauce), chili garlic sauce (optional), soy sauce, and dark soy sauce.
Can't take the heat? Opt-out of adding the chili garlic sauce.
Frequently Asked Questions
Can I prepare this in advance?
Yes. You can prepare the minced pork sauce and sliced cucumbers in advance.
But the noodles should be cooked and tossed with the sauce just before serving for the best texture and consistency.
Noodles tend to get soggy quickly after being cooked and mixed with sauce.
Can this dish be frozen?
No. This dish cannot be frozen.
Zha Jiang Mian (Chinese Fried Sauce Noodles)
Easy to make sweet and spicy meat sauce udon with sliced cucumber.
Ingredients
450

Grams

Minced Pork

3

Garlic Cloves Minced

2

Green Onions Chopped

1

Cucumber Cut Into Thin Strips

4

Udon

1 1/2

Cup

Water

2

Tsp

Cooking Oil
Sauce
2

Tbsp

Sweet Noodle Sauce

1

Tbsp

Chili Garlic Sauce

1

Tbsp

Soy Sauce

1

Tsp

Dark Soy Sauce

2

Tbsp

Water
Seasoning
1/2

Tsp

Salt

1/2

Tsp

Sugar

1/4

Tsp

White Pepper

1

Tbsp

Soy Sauce

1

Tsp

Cornstarch

2

Tbsp

Water
Instructions
Season the minced pork.

Slice cucumber into thin strips.

Chop the green onions and mince the garlic cloves.

Mix the ingredients for the sauce.

Heat oil in the pan to high.

Add pork and loosen meat evenly in pan, leave for 1 minute.

Turn pork over and leave for 1 minute.

Reduce heat to medium, add garlic and stir fry meat till well browned about 3 minutes.

Push meat to one side, add sauce, and stir well with meat.

Add water, cover, and cook for 5 minutes.

Bring water to a boil in another pot, turn off the heat and add the udon.

Loosen the udon quickly and drain.

Add udon to the meat sauce and mix well.

Turn off heat, add green onions and cucumber, and mix well.
Notes
1. This dish can be served hot or at room temperature. The sweet and spicy sauce together with the freshness of the cucumber makes this dish very appetizing for hot summer days.
2. Udon has a slightly chewy texture and it also absorbs the flavor of the sauce well. Avoid over-cooking udon by removing them from hot water as soon as they are loosened. The cooking process is completed when mixing into the meat sauce.
Are you a pork lover? Check out more recipes:
Chinese Pork Chops With Onions In Tangy Sauce